Jay Jones- The Humblefisherman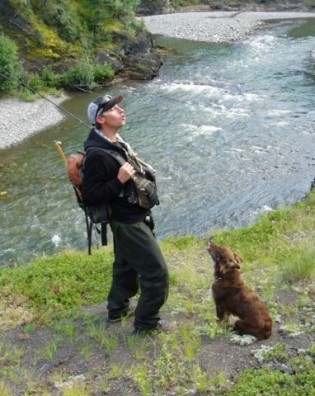 HOME PROVINCE: ALBERTA, CANADA
WEBSITES: http://www.youtube.com/user/humblefisherman
Jay has spent most of his life wandering the mountain rivers in southern Alberta, Canada. Seeking adventure and trout, he has built a relationship with fly fishing that goes deep into his soul. He began fishing at an early age with a passion for fly fishing past down by his grandfather; along with his bamboo Hardy dry fly rod of course. By his mid twenties he had completely devoted himself to the sport, and opened his guiding company (Eco-Fly Fishing), which operated successfully for 10 years. Jay's insight into the aspects of the fly fishing, and mountain exploration gave rise to a new passion, film production.
In the year 2000, the humblefisherman series was born as a concept , but it would not be seen publicly until 7 years later. In 2007, Jays introuduction to Youtube, offered the perfect outlet for his independently produced fly fishing series. His protection on and off river is the responsibility of his fishing dog, Maple Turdlington. A beautiful tri-color Australian Shepard of South Ram Outfitters heritage. Maple replaced ol' Sparro Doggers, when Sparrow passed away after a day of filming back in October of 2008. RIP old girl. Much of his youtube notoriety he owes to his loyal "film all day-get no pay" camera man, Cory Sveistrup.
Jay, Cory and numerous guests (like trouttrek), seek out some of the largest and hard to find fish in Alberta. Then they spin it into a story of truth, trout, and sometimes failure.
In the Spring of 2010, Jay worked on collaborative project with Pieroway Fly rods. They designed, and filmed the creation of Jay's signature series, the "Humblestick." A balanced 9 ', 4 piece, 6 weight with magnetic fly stands. The success of the Humblestick has brought the announcement of another rod, the Pieroway "Humble Hog Hammer." This series is a 9', 4 piece 8 weight rod designed specifically for large, piggish trout. There are now whispers of 4 weight dry fly rod too....shhh....
It is love of music, nature, and fly fishing that has been the fundamental teaching in Jay's life as well as the Humblefisherman video series. The dream lives on, after 60 films, and half a million video views, Jay has sights to produce 40 more films to round it out to and even 100. Look Jay up on Facebook or visit the "CONTACT US" page to have some dialogue.
SPECIALTIES: Jay has an extensive knowledge about the rivers, lakes, and fish of southern Alberta, Canada. He has physically explored over 10,000 Km of river basin and mountain terrain on foot, and has a side interest in mineral collection and bush craft. Jay always seems to know where the trophy Bull trout are. Known as Fish whisperer, Jay can use the ancient art of Tuven throat singing to induce fish to eat, or to make people laugh (what ever comes first)!
Vance Haug- Trouttrekker and Back Country Guru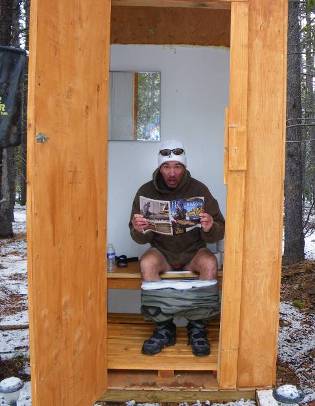 HOME STATE: SOUTH DAKOTA, WYOMING
WEBSITES: www.youtube.com/user/trouttrek
Vance is practical joker who came from a long line of folks named "Trout" on his mother's side. Thus, it is no wonder he took to mountain fishing and "story-telling" at an early age. His mother taught him to fish at 5 and it was at her side that he caught her first fish, a small Brook Trout, out of a crystal clear mountain stream in the wilds of Idaho. He's been hooked on trout and the Rocky Mountains ever since.
Vance spent most of his youth in Colorado and Wyoming but has also fished Montana, South Dakota (Black Hills), Idaho, Utah, Nebraska, and various parts of Canada. He was a "spear fish" and Scuba instructor in California for a time before returning to his beloved Rockies to become a deer, elk, and antelope guide in the Wyoming Wilds. He went back to school in the late 80's and early 90's to obtain a bachelor's degree in Colorado and a Juris doctorate of law in Wyoming.
Despite his varied interests and travels, Vance's passion has always been the "Rocky Mountain wilderness experience," be it hiking, hunting, or most especially fly fishing for wild and or native species trout.
He particularly enjoys "high country wilderness pack-in" trips. Vance often can be spotted on his Kawasaki KLR 650, trekking to remote areas around the Rocky Moutnain West and back-packing in from various trailheads in search of high mountain wilderness trout species. Vance is a resident expert when it comes to sub species of cutthroat and golden trout on public lands. It is this ambition to get out and explore that earned him the moniker "Trouttrek."
Vance is a huge advocate for the state of Wyoming's "Cutt-Slam" program. He has successfully completed the "slam" numerous times in numerous different drainages. He tells us that he is trying to log each of the thirteen cutthroat sub-species as part of his "life-list." Lightweight back-packing and fishing gear, water filters, tents, sleeping bag, and dry foods, is must for this type of trip.
So far, Vance has managed to catch, photograph, and release many large Golden trout along with many colorful cutt specimens including: Yellowstone, Snake River, Greenback, Colorado river, Bonneville, Westslope, and of course the almighty Lahontan. Generally speaking, the 20" cutthroat is a benchmark to be considered for these high country haunts. Vance has chased and located many trout in that range. If you know where Vance can find more native cutts or wild trout in general, or if you have a common interest in this type of wilderness experience, feel free to contact him on facebook or via our "CONTACT US" page. Tight lines from Vance and "May the fish be with You, Always!"
SPECIALTIES: Vance would consider himself an expert on the following waters: High Country Mountain Lakes in Wyoming, Black Hills of South Dakota, Wyoming's Cutt-Slam, and many other Wilderness Back Country trips throughout the Rocky Mountains
Bruce Smith- Off shore Captain "FORTUNE", fndr/moderator Everything Stillwater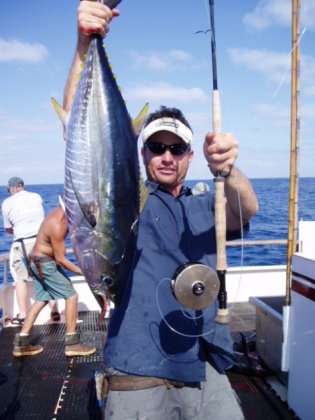 HOME STATE: CALIFORNIA, IDAHO
WEBSITES: everythingstillwater.blogspot.com/, myflies.com/Bio-Bruce-Smith.aspx, www.danica.com/flytier/bsmith/bsmith.htm, bigfishhappen.blogspot.com, www.shogunsportfishing.com, www.youtube.com/user/TunaFvr
Bruce is the consummate fisherman. He lives in San Diego, California where for years he has an offshore captain of the vessel named "Shogun." Bruce is now owner of the Vessel known to many as "Fortune" When he is not not fishing the Pacific Ocean with clients he is at his home in Island Park fishing the famed large fish of Henry's Lake, Hebgen Lake, and Clark Canyon Reservoirs.
Bruce is also very familiar with many of the other regional Stillwaters in the western half of the U.S. He is an amazing resource when it comes to Pyramid Lake , Nevada. He is undoubtedly one of the best Stillwater fishermen in the Western half of the US. Bruce frequents many of the nation's industry shows, has been written up in the following publications: Western Outdoor News, and the Fish Sniffer. His flies can be found at Rick Takahashi and Jerry Hubka's Modern Midges, Han Weilenmann's Danica Fly Tying Site, and on myflies.com. If you're lucky enough to know Bruce or have ever fish with him you'll quickly get the feeling that you are talking with one of the best. Whether it be booking a trip with him for Saltwater Blue-fin Trevally, Rainbow Runners, Striped Marlin, Wahoo, or Yellowfin Tuna or blogging with him about the western Stillwaters he is always helpful and in the know.
Bruce is also very consicous of preserving our sport. He regularly takes part in the stocking program at Pyramid Lake. He spends a month out of every year collecting fishes for the Monterey Bay Aquarium Outer bay Exhibit. If you visit the aquarium it might just be a Bluefin Tuna, Barracuda, or Bonito that Bruce and the rest of the crew on "The Shogun" have provided. To get in touch with Bruce click on the "Contact US" page or visit him on Facebook.
SPECIALTIES: Bruce is an expert on all the following waters: Crowley Lake (CA), Henry's Lake (ID), Hebgen Lake (SW Montana), Clark Canyon Reservoir (SW Montana), Pyramid Lake (Nevada), Magdalena Bay, Cabo San Lucas, Revillagigedos island chain and Clipperton atoll, Blackfeet Indian Reservation Lakes (Northern Montana)
Lee Novotny- Founder of TheFishFly & Stream Speed Products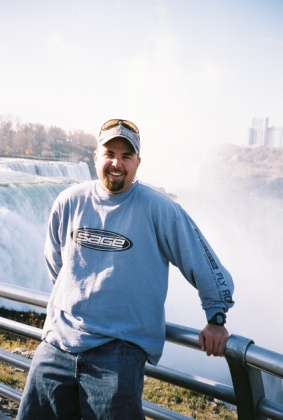 HOME STATE: COLORADO
WEBSITES: www.thefishfly.com, www.youtube.com/user/H8UZNB8
While living in Lakewood, Colorado Lee grew up fishing at the tender age of 4 and has been Fly fishing for more than 28 years now. He is a huge fan of stillwaters, and is very knowledgable about big fish in the state of Colorado. His home waters are the Colorado River, South Platte (from Antero through Denver), Spinney Mtn Reservoir, Antero Reservoir, and many of the tailwaters on the western slope.
In addition to Colorado, he has fished many of the North American Stillwaters, Alaska, and regularly frequents the Lake Ontario Tributary streams in search of large salmonids. It is these places, at shows, and through the internet, Lee has met the majority of the people seen here on The Fish Fly. In 1997, Lee passed up an opportunity to work with a North American developer to fence in 10,000 wild acres, build estancias, and guide the waters of Tierra Del Fuego, Argentina. While never succumbing to the urge to be a formal guide, Lee is has convinced himself that his time is better spent in search of large, native fish with friends in places who know the water. He currently owns 2 IGFA World Records and one former World record and loves the thrill of looking for more.
Lee is relentless when it comes to pursuing big fish. If you've fished with him you'll quickly notice that he has little patience for fishing the smaller fish. He is a well known sight fishermen and a knack for finding the big one's.
It was this passion for fishing new spots, traveling, and connecting with people in different areas throughout North America that inspired Lee to develop this site. Lee is also a creative fly tier with patterns that are fit for many of the destinations he travels too. His patterns are a bit unorthodox, but extremely effective in fishing the specialty waters listed below. Some patterns can be found here on the site. To get in touch with Lee click on the "Contact US" page or visit him on Facebook.
SPECIALTIES: Lee would consider himself an expert on the following waters: All drainages of the South Platte River, Colorado River, Spinney Mtn Reservoir (Colorado), Lake Ontario Tributaries (Western NY), Alaska (Kenai Peninsula), Blackfeet Indian Reservation Lakes (Northern Montana), Pyramid Lake Nevada

Copyright © 2011-2016 Thefishfly.com/Stream Speed Technologies/Everything Stillwater/BigFishHappen. All Rights Reserved
"now go away or we shall taunt you a second time"